LET'S RESIN provided the product used in this review. All thoughts are my own.
Hey, there!
Today I'm discussing a new to me alcohol ink brand, LET'S RESIN.
If you've been to my page before or visited my IG account, you know I'm selective about my inks. However, I love trying out new products and I'm always looking for affordable options for people who are just getting started with alcohol ink painting. When LET'S RESIN reached out to me and asked me to review their inks I jumped at the opportunity.
Before we jump into the product review, some of you may be new to alcohol ink. If you're new to alcohol ink, let me give you a quick run-down. If you're not new to alcohol ink jump down to the Overview section.
Alcohol inks are transparent, highly-pigmented dyes that can be used on non-porous substrates. Alcohol inks can be used with painting, stamping, fabric dying, resin tinting, jewelry making, and so much more! My preferred method is painting on yupo paper.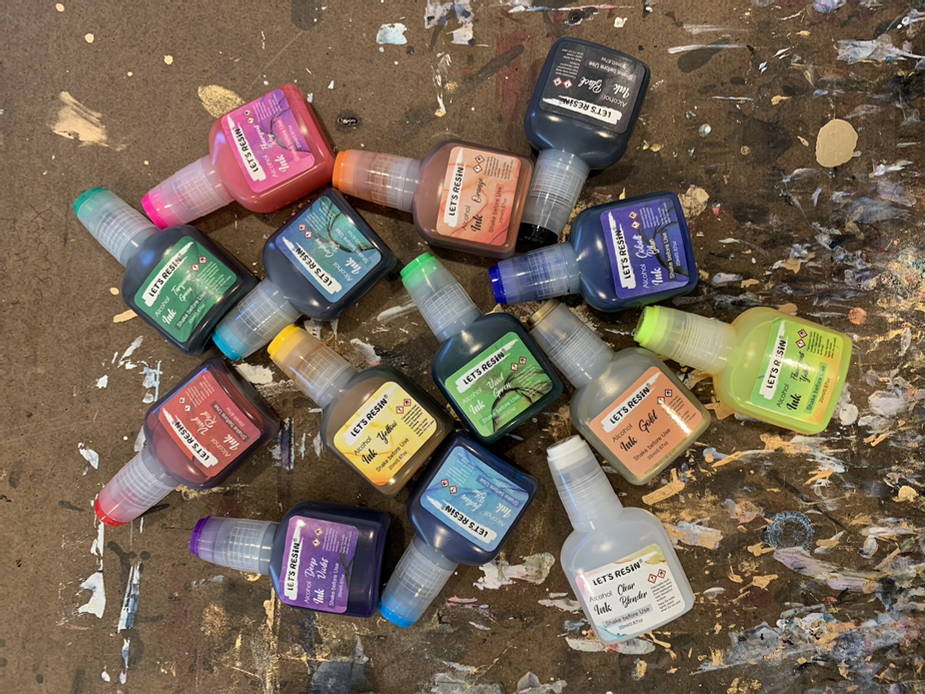 An Overview
Alright, so let's dig in to LET'S RESIN alcohol inks.
Direct from their website, LET'S RESIN alcohol inks are quick-drying, highly saturated, and vibrant colored. Like other brands, they can be used on a variety of surfaces and are suitable for epoxy resin as well (I see epoxy resin makers).
The inks are fade resistant and claim to be lightfast and permanent. The blending solution can be used to increase transparency on non-porous surfaces (yupo paper, etc.) and help the alcohol ink adhere to the surface.
The inks come in variety of sized on their website. The box I received contains 14 jumbo 20ml alcohol ink bottles. The package includes 12 bottles of colored ink, 1 bottle of gold metallic, and 1 bottle of blending solution.
Color Review
I made swatch cards for each of the colors on yupo paper with the blending solution that came in the package. The selection of colors include black, vivid red, fluorescent rose, orange, yellow, fluorescent yellow, deep violet, cobalt blue, indian blue, cerulean blue, turquoise green, vivid green, and gold metallic.
I noticed only one of the inks had significant color bleeding, Vivid Green, the rest stayed fairly pure. The rest of the colors remained pure which is rather surprising. Most inks have some sort of bleeding that occurs when you add blending solution.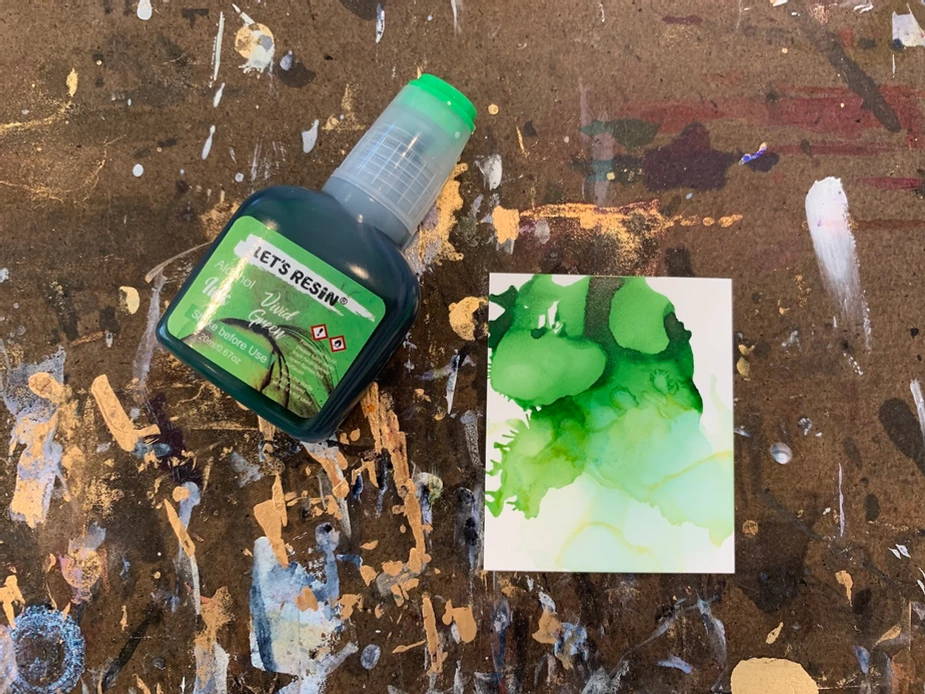 Special Note: I still need to try out each of the inks with isopropyl so I'll be updating this review once I continue to experiment with the inks.
Check out the video below to see all of the color swatches.
Products suggested in this blog: