Upgrade Resin Heating Mat with Auto-off Function Timer & Elastic Silicone Mat
Regular price

Sale price

$39.99

Description

Auto-off Function Timer: When the resin heating mat continues to heat at high temperatures, it may be deformed. Therefore, we have improved the heating mat and added a timer, which can be set to 2 hours, 4 hours and 6 hours. When the time is up, the resin curing mat will automatically stop. It is safer and easy to use. Meanwhile, It is more durable and increases service life.

Fast Curing: Compared with natural curing way and time, LET'S RESIN curing mat for resin significantly shortens the curing time. The curing time can be reduced from 12 hours to 3-4 hours, shortening your waiting time and greatly improving production efficiency. The inner packaging method is also upgraded, greatly reducing the deformation during transportation.Note:if the room temperature is 25 degrees, the maximum temperature on the surface of the heating mat can reach 140 degrees Fahrenheit.

Silicone Molds Friendly: When you use heat guns, torches and other equipment to speed up curing, it may cause more bubbles and damage the molds. Unlike traditional resin curing mats, our resin heating pad adopts a honeycomb design to provide even heat. Try to put your molds in the middle of the heating belt when curing, this will ensure an overall better curing effect and get a perfect handicraft.

Anti-slip & Reusable: We specially equipped a 16.5''x11'' silicone mat in the resin supplies kit, the matte side is placed on the heating pad to avoid sliding, and it can also prevent dripping glue from sticking to the heating mat. The silicone mat has a relatively large area and can cure multiple coaster molds or a single large-area mold at one time. You can also use the silicone mat alone in other crafting scenes, the silicone mat is easy to clean, easy to store and can be reused.

Curing Tips: ①The thickness of the resin should be within 20mm. If the thickness of the resin is too large, it will release heat and cause a sharp rise in temperature, which may damage the mold and the effect may not be too good. ②The mold needs to be in full contact with the silicone pad to ensure even heating. ③When heating, please put the silicone mat on the heating mat. ④ When heating, to ensure safety, please do not leave the heating pad for too long.
Shipping Policy

Free Shipping Over $30 for US.
All orders will not be accepted (except the USA), countries outside the USA may not able to place your order temporarily.
All US orders will be processed within 1-2 days (business days). Typical shipping time is are 2 - 5 business days. If you wanna cancel your order, please contact us as soon as possible.
Please refer to the Shipping Policy for more details.
30 Days Returns & Refunds

We really hope you like your purchase from LET'S RESIN. And we gladly accept returns within 30 days of receipt for items in new condition.
Please refer to the Returns & Refunds Policy for more details.
Share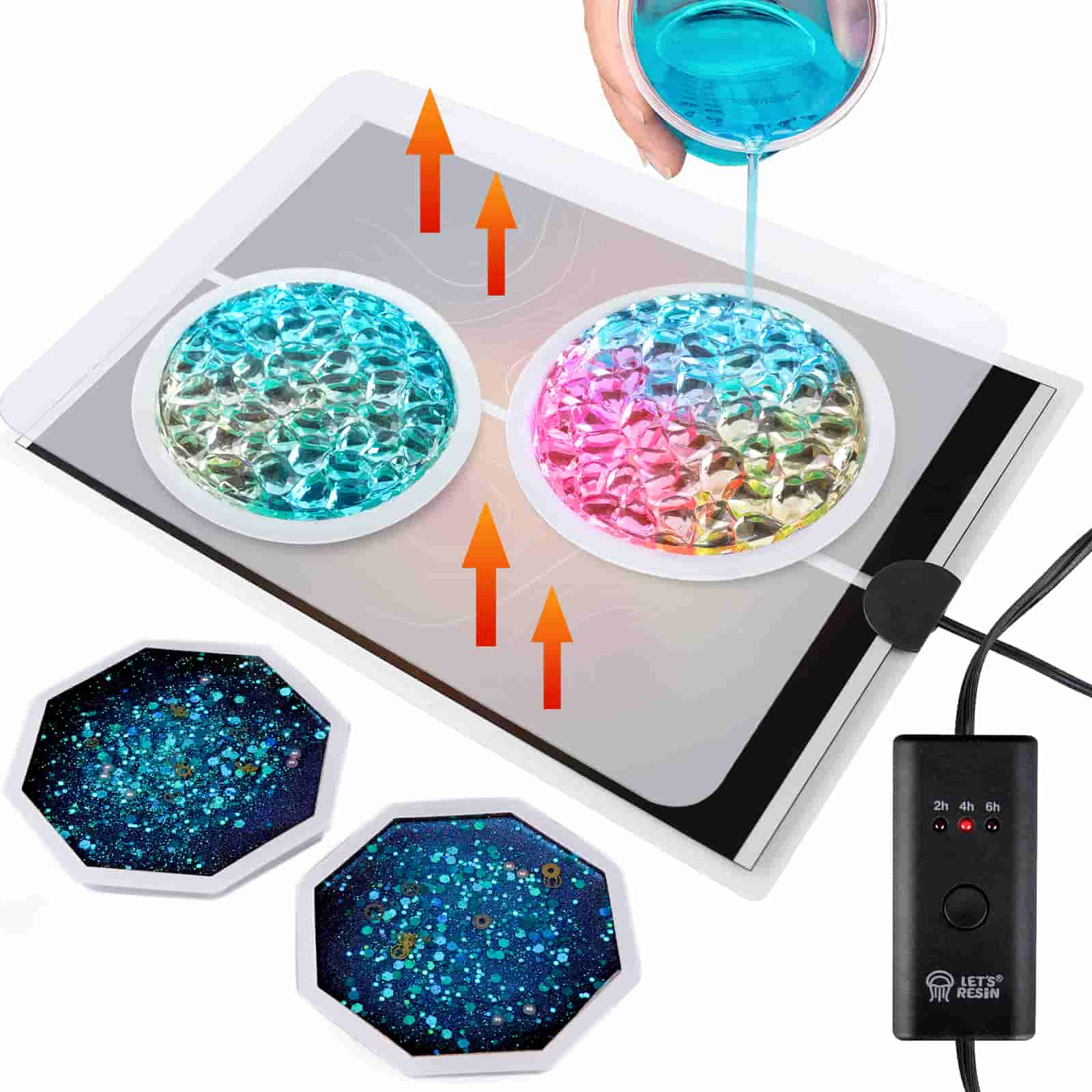 Curing Time