64 oz Epoxy Resin
Regular price

Sale price

$55.99

Description

Crystal Clear Epoxy Resin: Crystal clear finish no experience needed, good for all kinds of DIY projects, big or small, from paint pouring art to creating crafts like jewelry, resin coasters, table top.

Bubble Free Clear Resin: This clear casting resin is as transparent and clean as glass, bubble-free, great for making layered, deep pieces like jewelry or molds. Moreover, compared with the traditional epoxy resin, this epoxy resin for the craft is featured by its non-toxic, low odor, and yellowing resistance. Make you complete your perfect artwork without other worries.

Mold Friendly Clear Cast Resin kit: Let's Resin clear resin kit is friendly for the silicone mold, The heat dissipation will not be too high to damage the mold.

Moreover, the finished product can be demolded after 8 hours ( 77℉- 85℉) and fully cure in 24 hours.

Resin Kit for Beginners: Self-leveling Craft Resin, mix ratio 1:1 by volume, no experience needed, whether you are a novice or a veteran, you can use it easily. No need worries the fisheye or uneven, fit coating artwork, acrylic pour paintings.

100% QUALITY ASSURANCE: 1 year shelf life. If you received cloudy epoxy resin, no worries it is not expired, caused by the cold temperature, place the bottles of pre-mixed resin into warm water and let the resin warm up a tad before mixing, for any product problems, just contact us to get after-sale service.

Tips
1.How to eliminate bubbles.
Let's resin casting epoxy resin has fewer bubbles even not use the heat gun/torch. Stir slowly the resin in one direction and evenly small range, let resin sit for 10 minutes before pouring. Slowly pour mixed resin along the side of the mold.

2.Can I use the torch or pressure pot?
The answer is yes, but when you use the torch, heat gun, pressure pot will eliminate bubble, meanwhile accelerate curing, so that if you add the alcohol ink to the mold, We don't suggest you use the torch or pressure pot, It will affect the petri dish effect.

3.Does it fit Let's Resin molds.
It definitely fits our molds. Our silicone molds are thin very suitable for our own casting resin, just don't use the torch and heat gun.

4.I have no electronic scale,how to measure the ratio.
No worries, use a measuring cup to measure the volume 1:1 is very convenient as well.

5.How long is the expiration date?
It expires six months after you open it.

6.If I receive the leak/turn yellow resin, can I GET REPLACEMENT
Of course you can get the replacment,just contact us.

7.I received the epoxy resin go cloudy, is it expired?
The resin must be at the correct temperature for the correct finish. If it's too cold, it can affect the finish. To warm up resin, place the bottles of pre-mixed resin into warm water and let the resin warm up a tad before mixing. Do not heat it.

Kindly Note:
The clear polymer needs to be stored in a dry, safe, temperature controlled environment.
Always keep the lids tightly sealed when not in use. Remember, oxygen and moisture oxidize and can rapidly degrade the epoxy and hardener.

Package includes: 1 bottle Casting Resin
1 bottle Epoxy Hardener
Shipping Policy

Free Shipping Over $30 for US.
All orders will not be accepted (except the USA), countries outside the USA may not able to place your order temporarily.
All US orders will be processed within 1-2 days (business days). Typical shipping time is are 2 - 5 business days. If you wanna cancel your order, please contact us as soon as possible.
Please refer to the Shipping Policy for more details.
30 Days Returns & Refunds

We really hope you like your purchase from LET'S RESIN. And we gladly accept returns within 30 days of receipt for items in new condition.
Please refer to the Returns & Refunds Policy for more details.
Share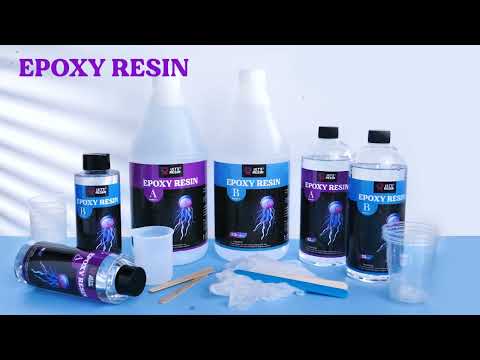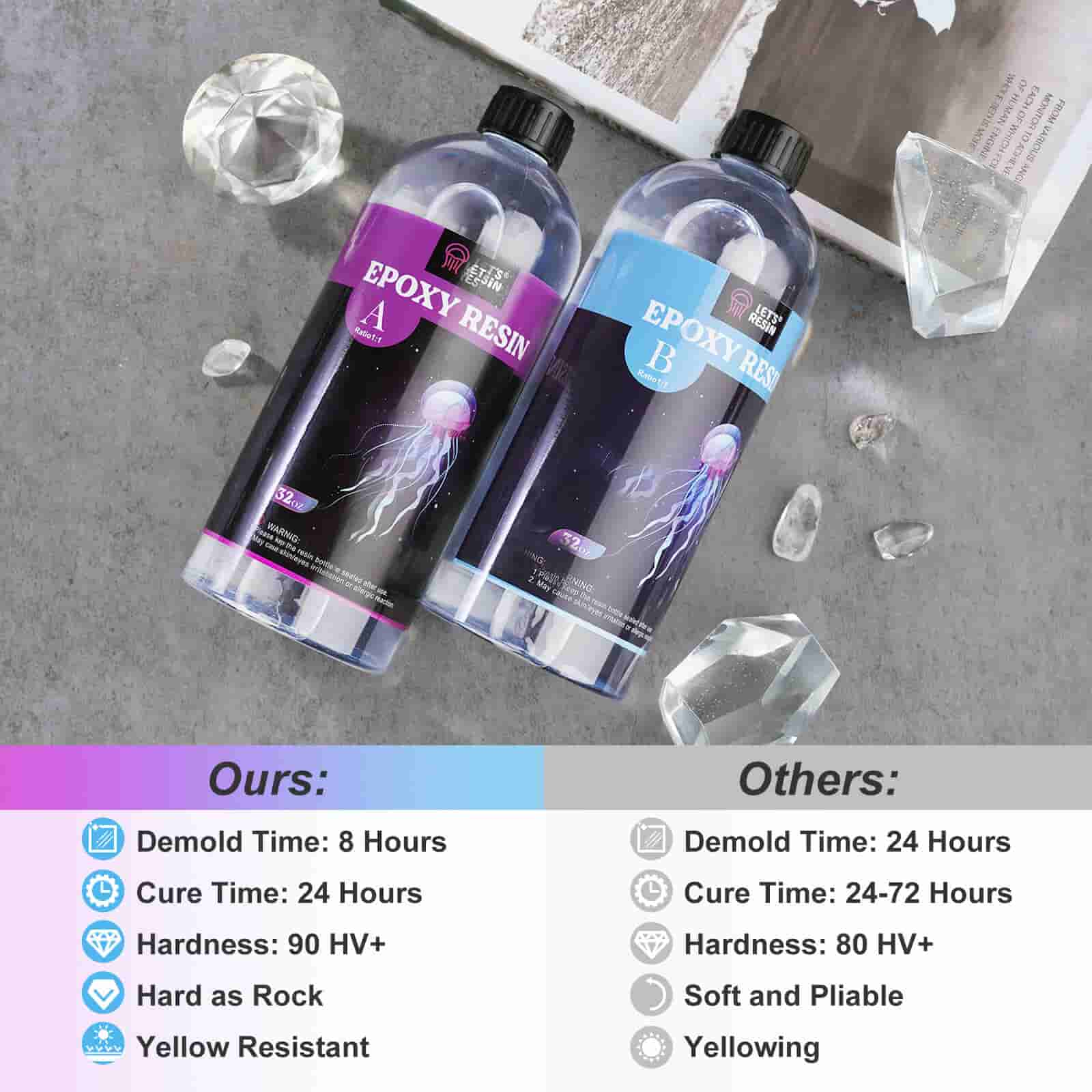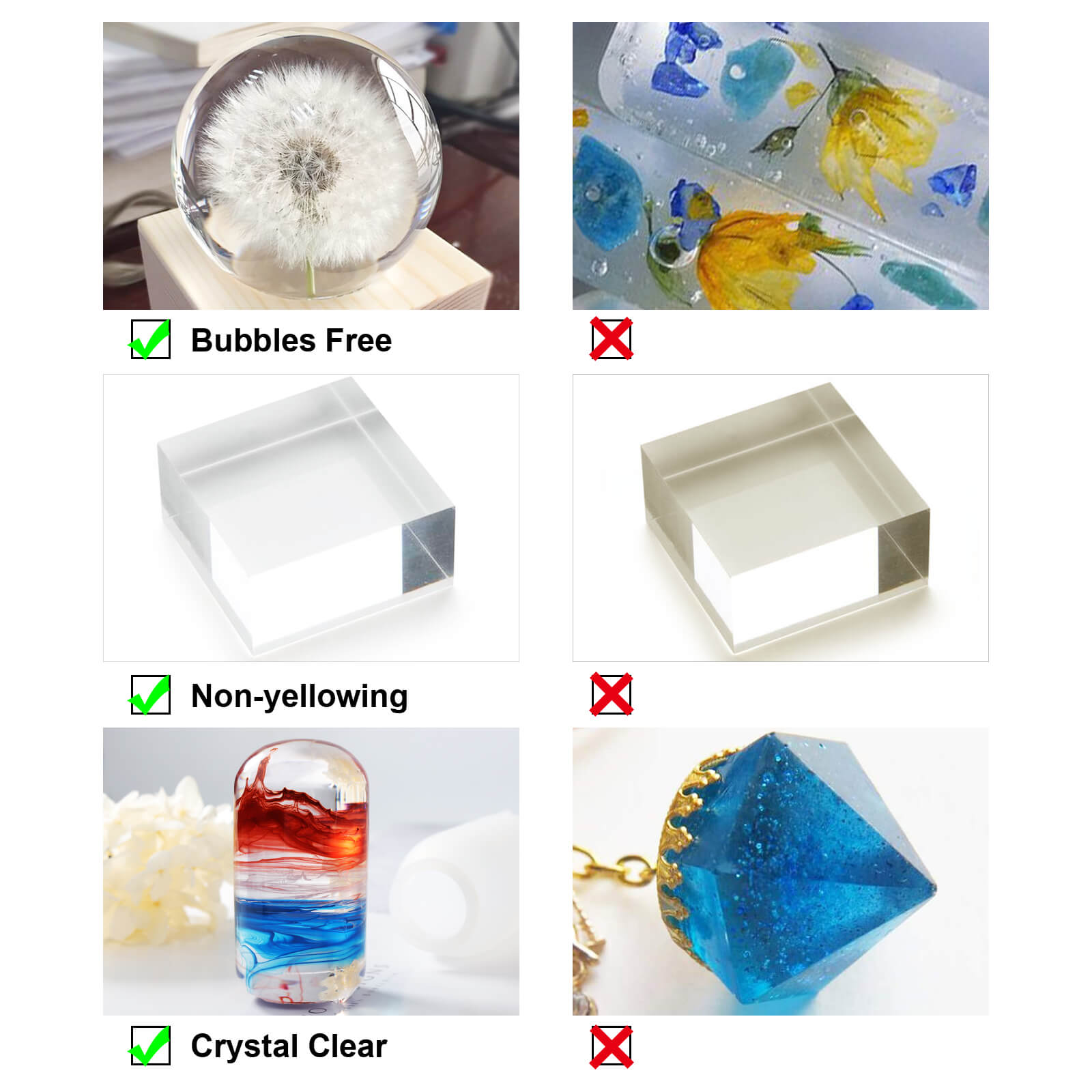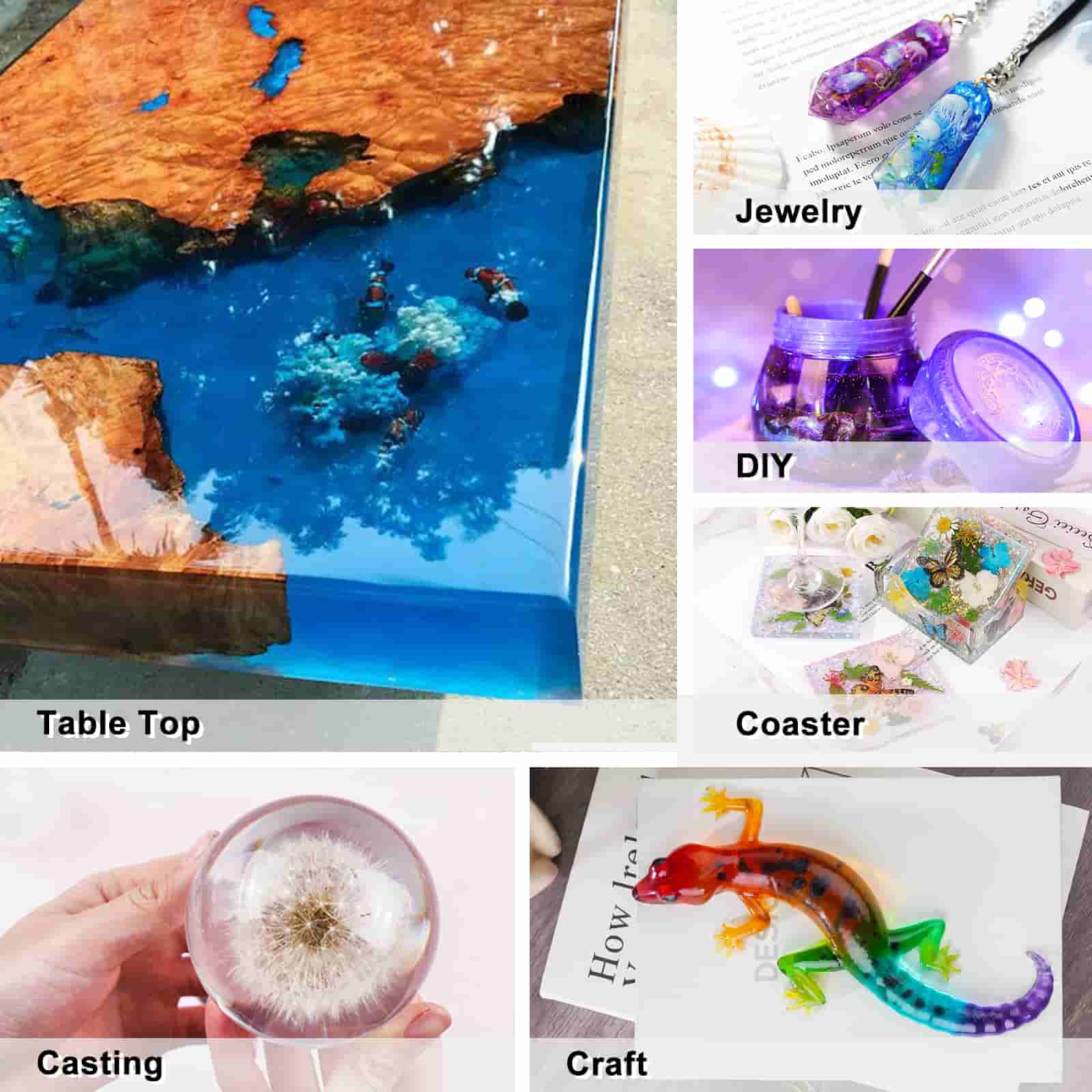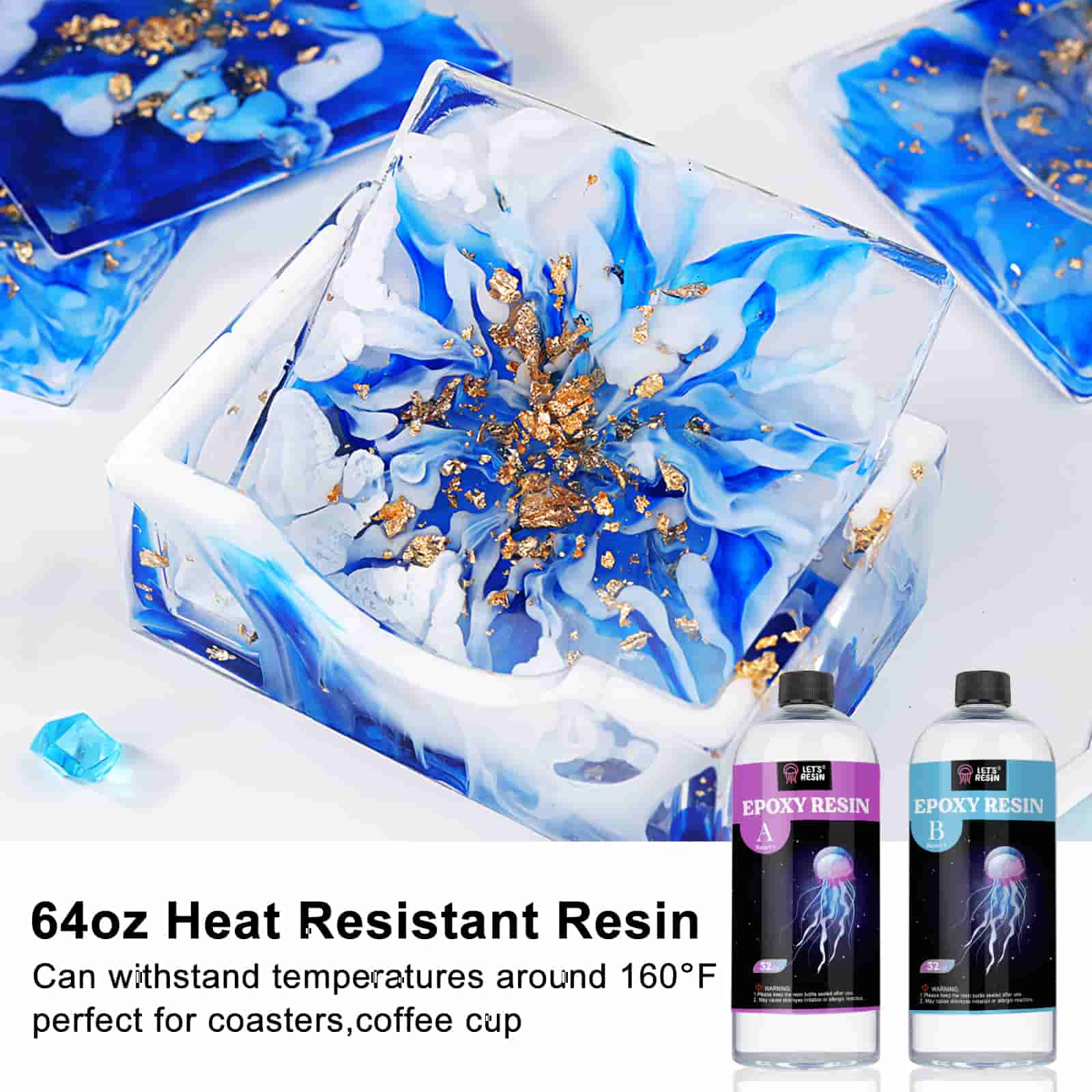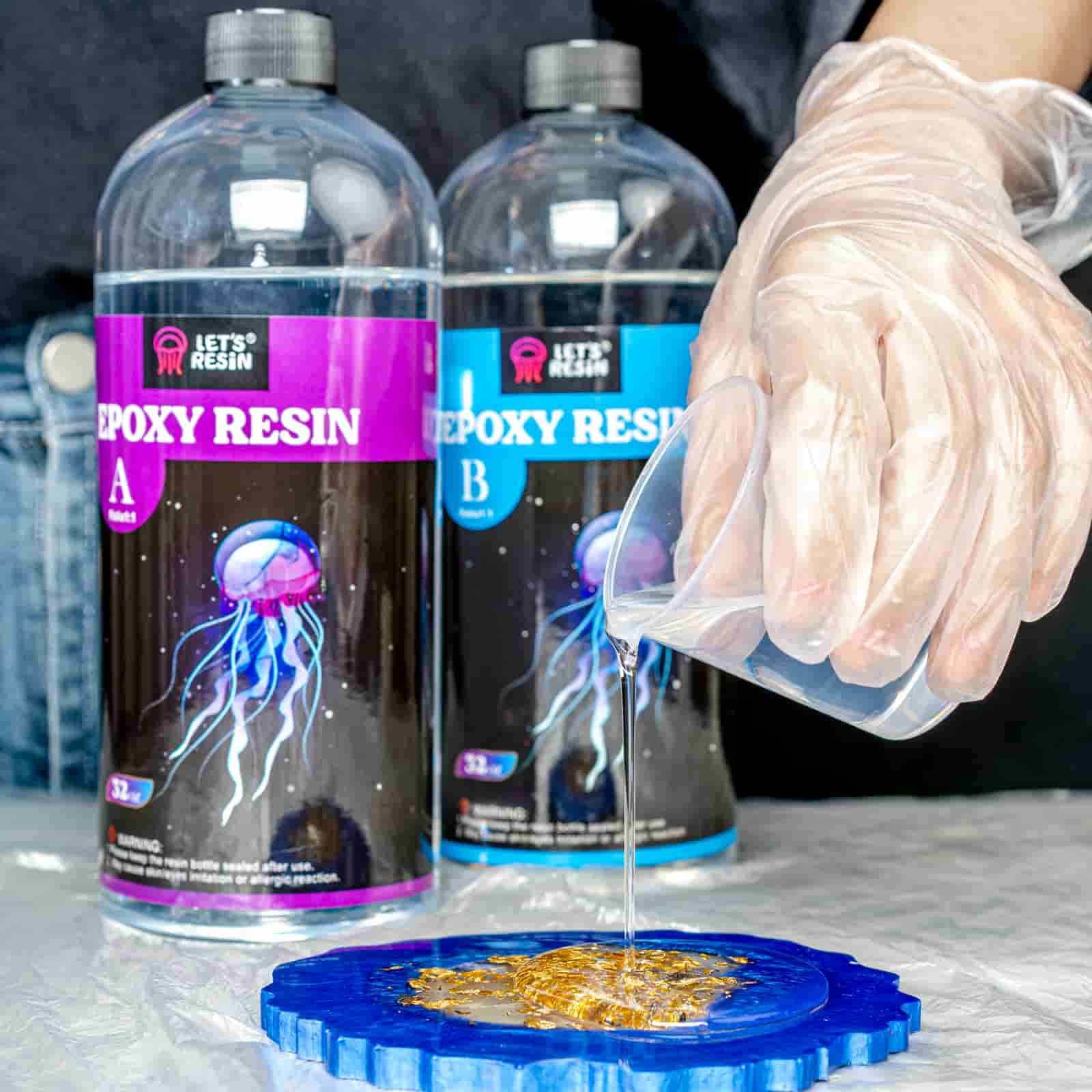 Artists' Choice

For Decor
Create resin tables, clocks, coasters & trays, night lights, photo frames, and ornaments ...
For Coating
Add a thick & high gloss coating for table tops, bar tops, countertops, tumblers, canvas, etc.
For Jewelry
Create necklace pendants, earrings, bangles, rings easily.
For Art
Try fluid resin art, ocean wave resin art, 3D flow resin art, resin petri art and so on.
Safe & Easy to Use

Low Odor. Mix in a 1:1 volume ratio.

Bubble Free & Clear

Anti foaming agents. As clear as glass.

Fast Cure in 8 Hours

Be demolded after 8 hours ( 77℉- 85℉) and fully cure in 24 hours.

Mold Friendly

The heat dissipation will not be too high to damage the molds.
Craft Tips
What affects the cure time?

How to reduce bubbles ?

How to sand resin projects ?

How to preserve flowers ?

How to make resin tumbler ?

Cold weather resin tips