Q1: I have years of epoxy resin experience, does that help when I'm new to UV resin?
A: NO! They are quite different in many aspects.
UV resin: cure by ultraviolet, it has to be exposed to ultraviolet properly and adequately. (Using ultraviolet radiation devices or the sun. Please note that the wavelength of other UV light should be between 365~405nm.)

Epoxy resin: cure by hardener, it needs right ratio of hardener.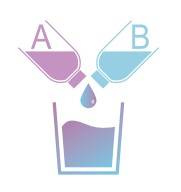 UV resin: to make small pieces like jewelry, to glue parts together, to coat small objects, etc.